Steam pressed, flat folded, boxed.
Grade A Used Jeans for Children
Used Jeans sold in assorted Name Brands, Styles and Sizes.
All Grade A .... Assorted Brands, Carefully graded, steam pressed, folded & boxed, No holes, rips, or tears. No missing belt loops – All zippers work. Approx. 50% boys & 50% girls. For ages 6 - 14.
Minimum order 300 jeans.
$3.50 per pair.
********************************
Childrens Jeans in Mixed Grades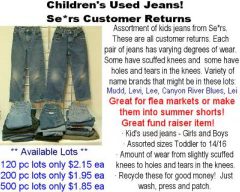 Assortment of kid's jeans from Se*rs. These are all customer returns. Each pair of jeans has varying degrees of wear. Some have scuffed knees and some have holes and tears. Variety of name brands may be in these lots. Girls and Boys assorted sizes Toddler to 14/16. Just wash, press and patch.

Minimum orders:
120 pcs $2.15 each.
200 pcs $1.95 each.
1000 pcs $1.85 each.
George Horbatenko
BLUE JEANS TRADING, INC.
New and Used Clothing, Jeans, Shoes, etc.
3346 Old Jefferson Highway
Woodbine, Georgia, USA 31569